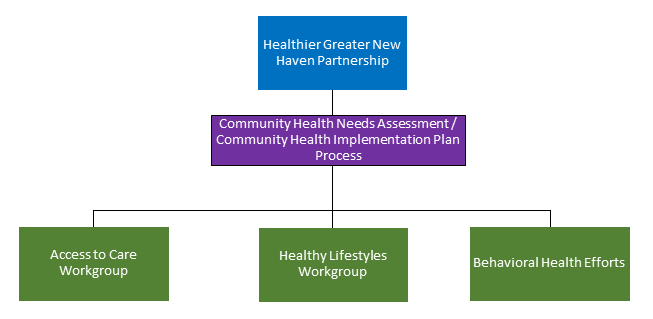 The Healthier Greater New Haven Partnership convenes on a monthly basis. This core group consists of the team leaders from each workgroup, leaders from Yale New Haven Hospital, health directors and staff from the City of New Haven Health Department, East Shore District Health Department, Madison Health Department, Milford Health Department, Quinnipiak Valley Health District and other decision makers from partner agencies including Community Alliance for Research and Engagement (CARE), DataHaven, Fair Haven Community Health Care, Keefe Community Center, Project Access-New Haven, United Way of Greater New Haven, Yale School of Public Health and many more.
The Healthier Greater New Haven Partnership oversees the work of three priority areas which address the health priorities identified through the Community Health Needs Assessment (CHNA). These workgroups consist of representatives from partner organizations, plus others interested in improving the health of the community through collaboration. Each workgroup meets on a monthly basis and works to ensure their specific Community Health Improvement Plan (CHIP) goals are met and progress is tracked.
All are welcome! The workgroups meet regularly and all meetings are open to the public. Email us at moreinfo@HGNHP.org for more details.